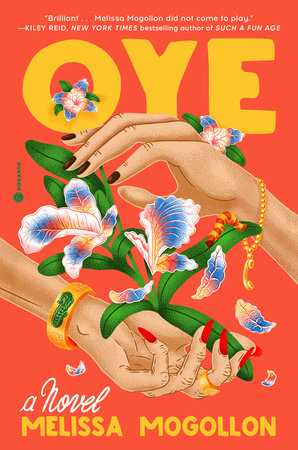 Iowa Young Writers' Studio counselor and teacher Melissa Mogollon's debut novel, OYE, will be published by Hogarth on May 14, 2024.
"Oye" is a coming-of-age comedy, a telenovela-worthy drama, and a moving family saga. Luciana is the baby of her large Colombian American family. And despite usually being relegated to the sidelines, she now finds herself the voice of reason in the middle of their unexpected crisis. Her older sister, Mari, is away at college and reduced to a mere listening ear on the other end of their many phone calls, so when South Florida residents are ordered to evacuate before a hurricane, it's up to Luciana to deal with her eccentric grandmother, Abue, who's refusing to leave. But the storm isn't the only danger. Abue, normally glamorous and full of life, is given a crushing medical diagnosis. While she'd prefer to ignore it and focus on upholding her reputation and her looks instead, the news sets Abue on her own personal journey, with Luciana reluctantly along for the ride.
Melissa Mogollon holds an MFA in fiction from the Iowa Writers' Workshop and a BA from the George Washington University. Originally from Colombia and raised in Florida, she now lives in Rhode Island with her partner and her dog.
You can learn more about "Oye" and about Melissa here.