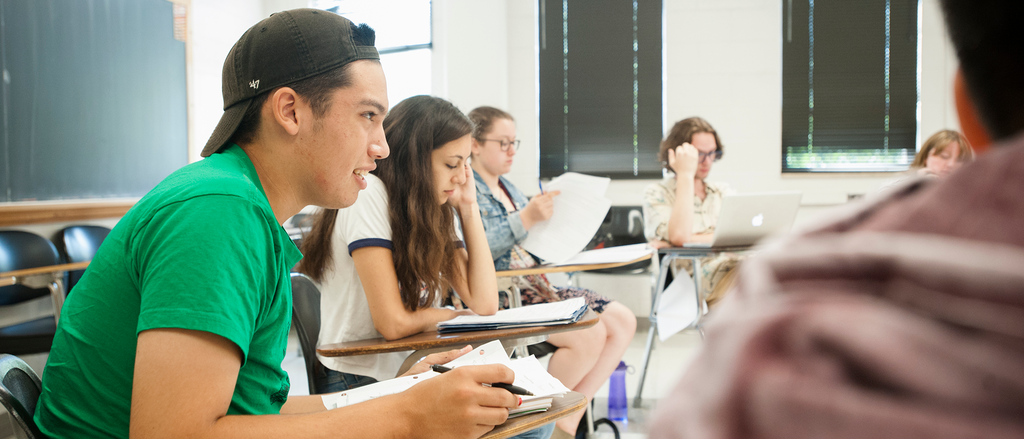 If you're accepted to the Iowa Young Writers' Studio's Summer Residential Program, you will choose a single Core Course of study—Poetry, Fiction, Creative Writing (a survey that includes poetry, fiction, and personal essay), TV Writing, or Playwriting—as your focus for the two weeks of the program. 
Poetry 
The Poetry course will explore voice, image, metaphor, line, language, and other aspects of this most condensed form. If you love writing poetry and want to focus on it exclusively and intensely, with a disciple's devotion, in a small tribe of fellow poets, this is the course for you.
Fiction
If the short story or novel is your thing, then consider the Fiction course. By focusing on challenges particular to fiction, such as establishing and deepening characters, writing dialogue, using stream of consciousness and interior monologue, working with 1st and 3rd and multiple points of view, managing plot and the passage of time, and creating a vivid setting, this course will help you gain a deeper understanding of the intricacies of the genre.
Creative Writing
Because of the scope of the class, which spans the three major genres of poetry, fiction, and personal essay, the Creative Writing course concentrates on those elements of writing that are universal: language, image, voice/point of view, structure/story, setting, character. The Creative Writing course is a great choice for you if your work already bridges multiple genres or if you want the freedom to explore new forms.
TV Writing/Writers' Room
In this collaborative course, you'll work as a team with your fellow writers to adapt a short story from the public domain into a dramatic television series. Working with your instructor, who will act as the showrunner, you'll develop, outline and write a pilot script. You'll learn about TV story structure, character development, and conflicts, obstacles, dilemmas and goals. If you love dramatic television, and want to write in the genre, this course is for you! Important: Writers' Room is a collaborative course. You and your classmates will work together, as a team, to develop and write a pilot script. That's why it's going to be so much fun! While you may have the opportunity to roughly outline and pitch a personal project, this will not be the focus of the course. 
Playwriting
In this core course, each student will focus on writing dialogue, developing characters, building settings and scenes, and designing a plot with the aim of finishing a one-act play by the end of the session. Students will read and discuss their work in class and give each other constructive critique and ideas for revision. Students will also read dramatic texts by established playwrights and study them in terms of craft. If you've always wanted to write for the theatre, this course is for you!
---
Course Structure
No matter what course you choose for your two weeks at the Studio, your classes will be small, 10 or fewer students. Each course is divided into a seminar component and a workshop component. The same instructor teaches both. With the exception of the Writers' Room, which will have its own structure, the core courses will consist of:
The seminar
To write, you must read. This is a bit like saying, To sing, you must listen, or To cook, you must eat. The emphasis of the seminar is for students to read as writers. Published work will be scrutinized for what can be gleaned about craft: how a writer achieved a particular effect or result, how a writer astonished or moved you. Students will explore and internalize aspects of craft by engaging in generative writing activities related to the readings.
The workshop
A workshop is a dialogue, a collaboration in which a writer and readers, including a teacher, work as a team to guide the writer's draft toward the fullest expression of itself. With constructive insight from a teacher and peers, a writer gets a better sense of how the work is perceived. The text for this class is the writing of your classmates, although readings and ideas from your seminar will come into play. Our instructors ensure that workshops present a supportive environment in which each student is encouraged to give thoughtful, thorough commentary to their peers in exchange for the same.